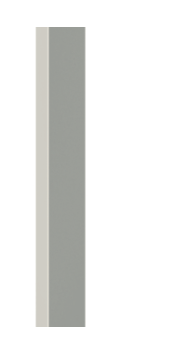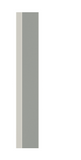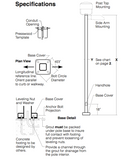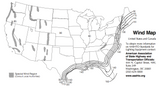 Hubbell
4" Square Poles
Pole Construction: One-piece non-tapered square shaft of low carbon steel (ASTM-A500, Grade B, 46,000 PSI min. yield) with one flush-welded vertical seam. Shaft is welded to a flat steel anchor base (ASTM-36, 36,000 PSI min. yield).
Base Cover: Base has a two-piece cast aluminum full cover of 319 alloy, secured by stainless steel screws.
Pole Cap: A flush-sided cast aluminum pole cap is provided for side arm mounted luminaires.
Handhole: 18" up from base, with a gasketed cover and ground lug. 2" x 4" handhole provided on poles up to 16'. Reinforced 3" x 6" handhole provided on poles 20' and taller.
Anchor Bolts: Four fully galvanized anchor bolts provided (ASTM-36, 36,000 PSI min. yield), complete with eight galvanized nuts, eight galvanized flat washers, and a presswood template.
Strength: Poles will withstand wind loads as listed in chart (see page 2) when luminaires are mounted per fixture installation instructions.
Finish: Super TGIC thermoset polyester powder coat paint, 2.5 mil nominal thickness. 5 stage steel pretreatment to include phosphoric acid etch, followed by iron phosphate bath and chromate sealer for corrosion resistance. Standard color Dark Bronze. 
CAUTION: Do not install poles without luminaires or strength guarantee is voided. Any unauthorized accessories secured to pole shall void strength guarantee.
Maintenance: A regularly scheduled maintenance program must be established to insure the protective paint coating is intact, corrosion or structural damage has not occurred, and anchor bolt nuts are tight. Failure to do so could lead to pole collapse and serious personal injury.
Certification: Certified UL 1598 in accordance with Article 410 of ANSI/NFPA 70, National Electrical Code.
 typical 2-3 week lead time