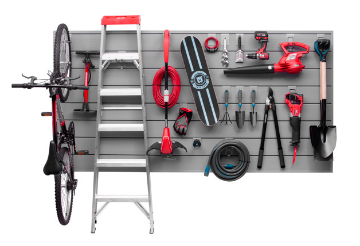 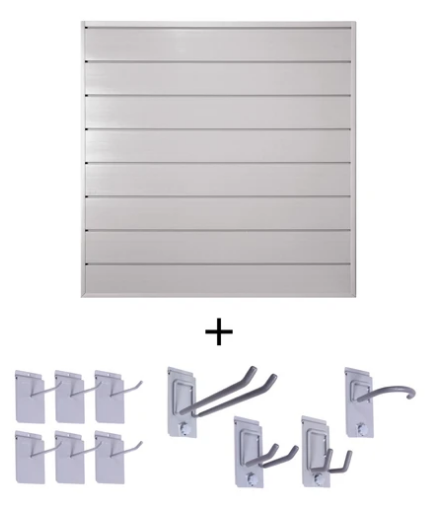 CrownWall
Garage SlatWall
$19.23
CrownWall 8" x8 ft Bundle with 10-Piece Hook Kit
#BD644WHT10-K
This bundle offers an excellent assortment of hooks combined with a 16qft section of our heavy-duty CrownWall to help get you started. The hooks boast high grade steel back plates which disperse the workload throughout the wall. Empowering you to hang whatever you want, wherever you want.  Color: Dove Grey
CrownWall 8" x8 ft Bundle with 20-Piece Hook Kit
#BD684WHT20-K
This bundle offers an excellent assortment of hooks combined with a 32qft section of our heavy-duty CrownWall to help get you started. The hooks boast high grade steel back plates which disperse the workload throughout the wall. Empowering you to hang whatever you want, wherever you want. Color: Dove Grey
12-Piece Locking Sports Kit
#CW12SPRT-K
A game changing kit for any outdoorsy type. The fishing hooks keep your fishing rods easily accessible and free of tangles. Vertically hang up to two bicycles with the included bike hooks. The small J hooks and 4-inch double hooks make quick work of camping gear or any other athletic equipment. Finally, the 4-inch hooks take care of any left over items. Color: Dove Grey
CrownWall PVC Panel Kit (8" x 8ft)
Crownwall is the core of our organizational system. Cut the clutter with the strongest and most stylish slatwall on the market! Reclaim valuable square footage by maximizing usable wall space to fit your unique needs. Our modular design means no space is too great or too small. Color: Dove Grey
CrownWall PVC Panel Kit (8" x 8ft)
Crownwall is the core of our organizational system. Cut the clutter with the strongest and most stylish slatwall on the market! Reclaim valuable square footage by maximizing usable wall space to fit your unique needs. Our modular design means no space is too great or too small. Color: Dove Grey
6 Piece Shelf and Basket Kit
#CW6SB-K
Wire shelf and basket value pack for all your difficult to hang items. Lightweight and high capacity steel with a sleek powder-coated finish. An exceptional choice for giving your closet, laundry room or garage a face lift. 
10 Piece Organizing Kit
#CW10ORG-K
The handy man's dream. This combination of accessories has been devised for all-encompassing accessibility. The shelf and paper towel holder accommodates a range of cleaning products, oil jugs and sprays, while the lower dowel handles paper towels, shop towels or various tapes. Your frequently used tools are always ready to go thanks to the magnetic tool holder. The small plastic bins keep your hardware or other small items in check, and the medium plastic bins provide a solution for larger items. Finally, the 4-inch hooks take care of anything left over. 
10 Piece Plastic Bin Kit
#CW10BIN-K
Our storage bin sampler pack, offering a multitude of storage possibilities. Soild bottoms mean any mess is contained inside the bin, which is easily cleaned. 
30" x 17" Deep Mesh Basket
#BALLBAG
A stylish way to contain balls, children's toys and more otherwise annoying items. The durable front zipper grants easy access to items stored futher down, eliminating frustration. 
7 Piece Cabinet Set

2 x Tall, 2 x Two Door Wall, 1 x Five Drawer Base, 1 x Two Door Base, 1 x Stainless Steel Countertop

Interlocking Floor Tile

12" x 12" tiles is quick and easy.  Floating interlocking floor system great for garages, basements, decks and balconies.   Easy to clean and maintain, 12,000 lb weight capacity.  Perforations in the tile allow water and moisture to drain.  Free flowing underside allows water and moisture to escape.  Versatile can be laid over old, worn, and uneven surfaces. 

ALL MADE IN CANADA
View product