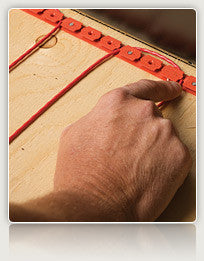 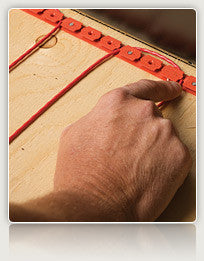 Nuheat
Cable Floor Heating System 120V & 240V
$29.20
Floor heating system that allows contractors to instantly make on-site adjustments to the floor heating coverage for any room including those with curves and angles. Cable can be also used to heat wet areas such as shower beds and benches or saunas.
Sleek and stylish design
with an intuitive touch menu navigation
The Touch thermostat, comes with a large 3.5" colour touchscreen. The intuitive touch menu navigation makes programming of the heating schedule convenient, and it gives end-users easy  access to adjusting and monitoring their home heating system.
Easy scheduling and adaptive control ensure comfort temperature is set at the required time.
The thermostat has 5-year battery backup of clock and calendar so settings are still in place after power interruptions.
3.5" colour touch display

User-friendly interface available in non wifi and wifi 

Energy monitoring (patent pending)

Compatible with existing floor sensors
Benefits: Keeping Your Feet Warm: Why Warm Feet Are Good for Mind and Body
Our feet play a vital role in regulating our body temperature. Like our hands, they have a large surface area and lots of blood vessels. These can open up to let more blood flow, which allows heat to flow out of them.
They're also at the end of our limbs (that's why they're sometimes called 'extremities') and they have less heat-producing muscle, which also makes them prone to cooling down. If they get too cold, our pain receptors are triggered and we feel discomfort – unless we can put on some really toasty socks or a warmed floor!.
View product