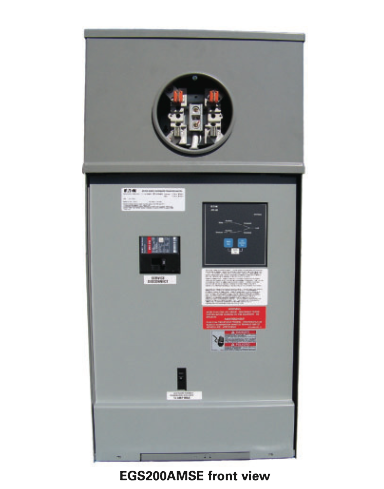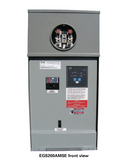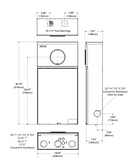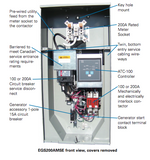 Generators
Metered, Service Entrance Rated Automatic Transfer Switch
Features/benefits
Combined functionality in a single enclosure

Saves installation time and cost

Service entranced approved for Canada

Works with Generac not Kohler
100 and 200A Models

Overhead or Underground service entrance

Type 3R indoor/outdoor enclosure

Accessory 15A Single Pole Circuit Breaker

Applications
New or retrofit residential standby generator installa- tions

Farm or rural properties

Everything in one box

Traditionally, retrofitting a home to permit the connec- tion of a standby generator has meant considerable rework to the home's electrical infrastructure. Often times this leads to the addition of multiple electrical enclosures and a network of conduit and cabling tying them together. The added complication of multiple enclosures increases the labour costs on installations. It also leaves the home owner with either a cluttered utility room or a less than attractive exterior installation. To solve some of these issues Eaton has developed its new metered, service entrance rated automatic trans- fer switch (ATS).

Combined in a single enclosure and factory wired is
a 200A meter socket, service entrance rated circuit breaker disconnect, and an ATS. The single enclosure assembly saves the installing contractor time and money while leaving the home owner with a more visu- ally appealing installation on the outside of their home.

Factory wired
A traditional service entrance rated assembly would require the installation of a separately mounted meter socket, enclosed circuit breaker or fusible disconnect switch, and an ATS. Eaton provides all three devices
in the one enclosure and factory wires them to carry the utility supply from the meter socket through to the ATS contactor assembly.
3R rated
Type 3R enclosure is construct- ed for either indoor or outdoor use to provide a degree of protection to personnel against access to hazardous parts; to provide a degree of protection
of the equipment inside the enclosure against ingress of solid foreign objects (falling dirt); to provide a degree of protection with respect to harmful effects on the equipment due to the
ingress of water (rain, sleet, snow); and that will be undam- aged by the external formation of ice on the enclosure. 
Overhead/Underground Entrance
Two openings on the top of the enclosure provide for overhead service entrance hub mounting. Knockouts in the bottom of the enclosure and matching left and right hand wireways provide for bottom service entrance cabling. The unused wireway(s) can be removed providing additional space in the enclosure. Blanking plates are included to cover the openings left behind by the removal of either wireway.
Allow 3-4 weeks, please note while it is CSA, please check with your hydro company as not every area allows these.