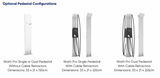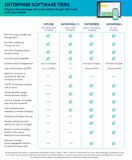 Yatti
EV Pedestal
A convenient charging station pedestal, perfect for parking lots and driveways where wall mounting isn't ideal. The Watti Pro Pedestal holds one or two Watti Pro chargers. It's compact size is ideal for small spaces.
Easy and cost-effective installation, ground mounted with 4 bolts, concrete pad recommended. Made of robust steel for durability in all weather conditions.
The optional top cable retractor ensures your chargers are always neat and tidy. 
KITC0NSAXPH01-RW      792105404899    Single Pedestal Cable Management Top            *Requires Single Pedestal Base     
                KITC0NMAXPH01-RW    792105404905    Dual Pedestal Cable Management Top   *Requires Dual Pedestal Base                
                KITP0USAXPH01-RW      792105404950                  Single Pedestal Base       
                KITP0UMAXPH01-RW    792105404967                  Dual Pedestal Base