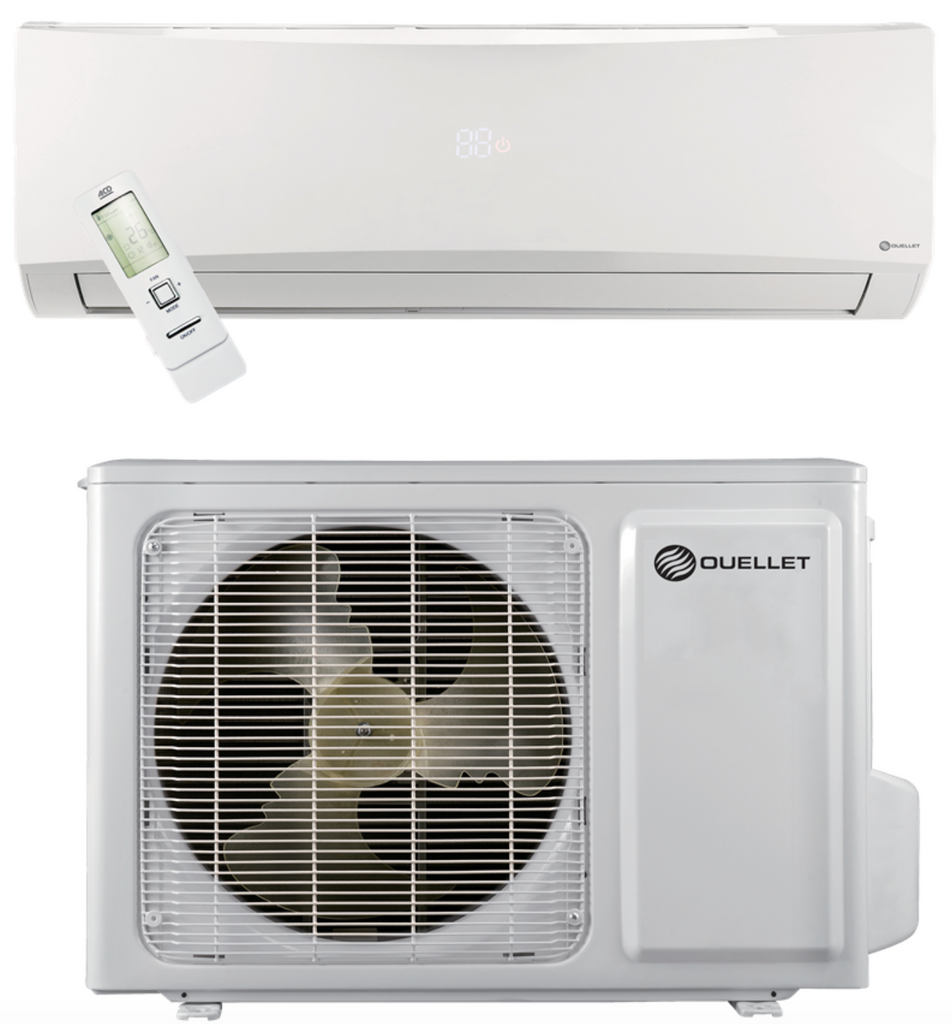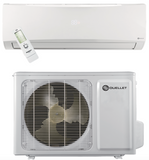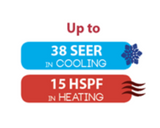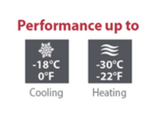 Ouellet
Olympia Ductless Single Zone Heat Pump
Promo while supplies last.
A heat pump system produces about four times more heat than a traditional electric heating system for the same energy consumption, as well as offering the comfort of air conditioning during hotter weather.
Ideal for areas that you need to condition your space and you can run your duct to..no Hvac required... such as cabanas, cottages, older homes, vacation homes, colder rooms..
Operation mode
• Cooling, heating, dehumidifying, fan and auto.
Nominal capacity
• 9000 BTU/hr.
Voltage
• 230/208V, 60 Hz, 1-phase.
Indoor unit
• High wall installation, dual side connection.
• Plastic housing, standard white.
• 7-speed cross-flow fan (turbo, high, medium-high, medium,
medium-low, low and quiet).
• Washable filters.
Outdoor unit
• Variable speed rotary compressor (INVERTER), with overload protection.
• Electronic expansion valve for precise control of refrigerant flow.
• Condenser fins covered with a hydrophilic coating for improved corrosion resistance.
• Large diameter quiet axial-flow fan for more efficient heat exchange.
• Smart pan heater to prevent ice formation.
• Compressor blanket and preheating technology.
• Installation on adjustable aluminum wall bracket (optional).
Connection piping
• Minimum piping length of 10 ft. (3 m).
• Flared connections.
Control
• Wireless remote included.
• Wired wall controller available.
• Wi-Fi capability.
• Set temperature: 16 to 30 °C (61 to 86 °F).
• Temperature display format: °C or °F.
Warranty
Note: All heat pump systems must be installed and registered by
a certified Ouellet installer to be covered by the basic warranty.
• 10-year basic warranty on parts and 10-year basic warranty on the
compressor (labor not included).
• Labour warranty (sold separately) from the 1st to 10th year, on parts
and labour with system replacement if the compressor fails.
Application
• Dining room-kitchen, living room, family room, commercial building,
office building, condo, restaurant.
due to weight and size shipping on these is $250
free shipping applies for orders under 100 lbs.