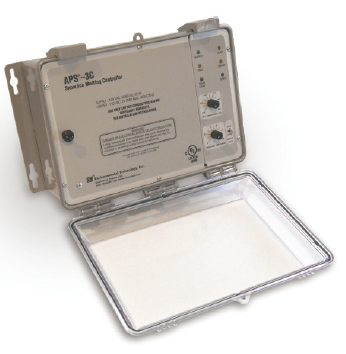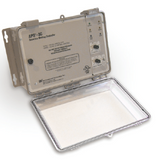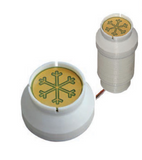 TRM
APS3C 120V Controller & Snow Sensor
Automatic snow/ice melting control
• Operates electrically- and mechanically- held contactors
for pilot duty applications
• Energy management computer (EMC) interface
• Accommodates MI, constant wattage and self-limiting
Multiple sensor capability
• Heater hold-on and test capabilities
• C-UL-US
• Simple to install and operate
• Low system costs
• Minimum energy costs
Up to 6 sensors from the CIT–1 product family not included  
The APS–3C Snow Switch when used with compatible sensors
automatically controls snow/ice melting heaters, ensuring minimum operating
costs. Typical applications include pavement, sidewalk, loading dock,
roof, gutter and down spout snow/ice melting. The APS–3C is interchangeable
with earlier APS–3 models.  The adjustable hold-on timer
continues heater operation for up to 10 hours after snow stops to ensure
complete melting. The optional RCU–3 Remote Control Unit can be located
where system operation can be conveniently observed. It duplicates
many of the controls and indicators on the APS–3C front panel. It is used to
clear tracked and drifting snow that may not land on a sensor.
The calibrated 40ÅãF to 90ÅãF (4ÅãC to 32ÅãC) high limit thermostat prevents
excessive temperatures when using constant wattage and MI heaters. It
also permits safe testing at outdoor temperatures too high for continuous
heater operation. The temperature sensor is included.
The APS–3C provides a relay closure interface for use with energy
management computers (EMC).  This feature can also be used for
general purpose remote control and annunciation and other advanced
applications.
All sensor and communications wiring is NEC Class 2. This simplifies
installation while enhancing fi re and shock safety. The APS–3C can interface
up to six sensors from the CIT–1 product family. Using more sensors
provides superior performance by better matching the controller to site
performance requirements.  The APS–3C is an exceptionally
capable deicing controller.
SNOW OWL Aerial Snow Sensor replaces the CIT-1 for surface snow and ice management systems.
The SNOW OWL is designed to work with a controller or contactor, optimizing energy usage in heated snow/ice melting applications. The SNOW OWL is also an excellent solution for building automation applications.
During dry or warm weather, the system's heaters are turned off to save energy costs. The heaters are turned on only when snow and/ or ice is present, and kept on only long enough to ensure complete melting and drying. Temperature and time parameters can be varied within the SNOW OWL, enhancing system performance in a given environment and application.