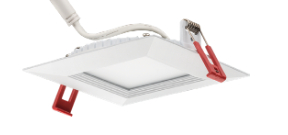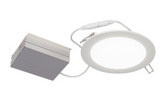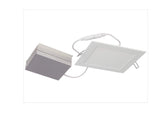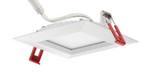 Acuity
Flat Slim Light
Please note while slims are cost effective these are high in glare and carry blue light.  If looking for a healthy alternative please check out the Ovid lighting line with 95 CRI for no blue light and no glare ideal for families with kids under 12 for eye health or those prone to migraines. 
Lithonia LED flat downlight provides an cost effective, easy and quick downlight solution without the traditional frame and reflector.  Perfect for installation in existing showers and closets to low ceiling basements applications with the benefits of energy saving LED technology.
4" design with an impressive 700 lumens and 90CRI for true healthy color rendering. Round version now with selectable 3000K,4000K and 5000K and matte white finish. Square version are 3000K only with semi baffle design.
Features
1. Flange: aluminum, painted white.
2. Lens: diffuser is used for smooth and diffused light pattern.
3. Junction Box: steel, 4 7⁄8" x 1 1⁄4" x 4 1⁄8" Clip attached on the side of the J-box to connect with fixture or new construction plate to meet NEC (National Electric Code). J-box also has key holes on the side for mounting on joist
4. Connector: locking power connection is used to connect J-box and fixture. Standard length of the connection is 16" (400mm).
5. Ceiling cutout: installation template on adhesive backed label is supplied with the product.  4" round: 4 3⁄16" (106mm) diameter.
6. Gasket: foam gasket supplied with fixture.
7. Please note not ideal for soffits, as the lights shines out not down.  Ideal for basements and showers.