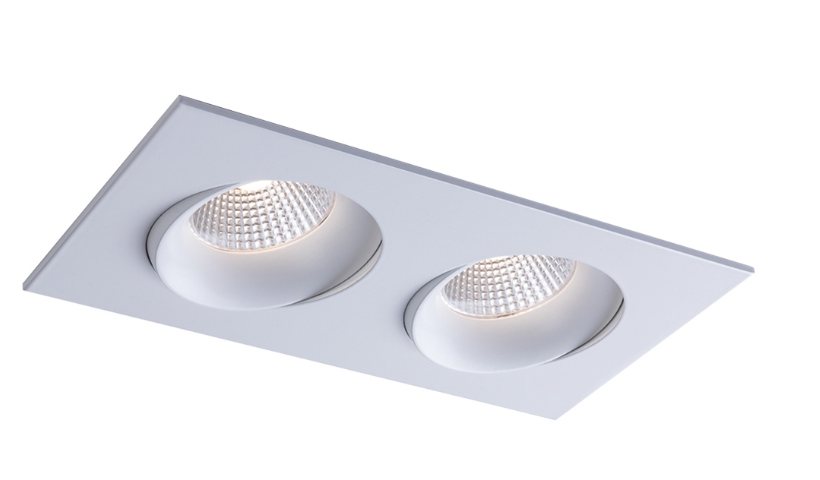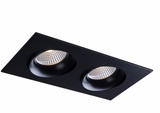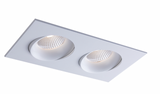 Liteline
LUNA LED 2-Light
27K-50K

Selectable
Features

LUNA
3.5" LUNA LED 2-Light Linear Gimbal Color
Selectable Recessed Fixture
Recessed Downlighting

Body
Durable airtight aluminum body with
adjustable gimbal. Includes anodized
blue heat sink to provide maximum
airflow for the LED light source.

LED Characteristics
This general application light fixture
features 18 watt LED module that
maintains uniform intensity producing
up to 1280 lumens; with a typical CRI of
90. On-fixture color selectable switch
allows switching between 2700 K,
3000 K, 3500 K, 4000 K and 5000 K
color temperatures.

Dimming
100%-10% dimming capability. This
fixture is compatible with industry
standard forward-phase / reverse-phase
and TRIAC/ELV dimmers (contact
factory for list of compatible dimmers).

Beam Spread
The fixture lens provides 38° beam
spread.

Mounting
Includes four spring loaded clips to
attached to any ceiling material.

LED Driver
Extruded aluminum hardwire box with
two 210mA dimmable class II electronic
LED drivers with 100-135V AC input.
Includes an 18" FT6 rated cable with
DC 2.1 connector between driver and
fixture approved for use in plenums and
suspended ceilings.

"Quick connect" push-in terminals for
fast and easy wiring.

Operating Temperature
-20°C~40°C (-4°F~104°F)

Environment
• Suitable for wet locations.
• Approved for direct contact with
insulation.
• Airtight